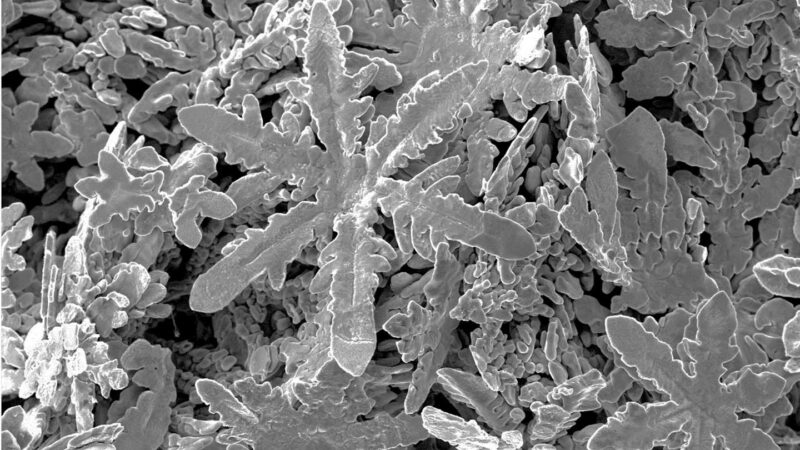 Look carefully at a snowflake, and also you'll observe a one-of-a-kind gossamer lattice, its progress influenced by ambient circumstances like temperature and humidity. Seems, this type of intricate self-assemblage may also happen in metals, researchers report within the Dec. 9 Science.
In swimming pools of molten gallium, physicist Nicola Gaston and colleagues grew zinc nanostructures with symmetrical, hexagonal crystal frameworks. Such steel snowflakes might be helpful for catalyzing chemical reactions and setting up electronics, says Gaston, of the MacDiarmid Institute for Superior Supplies and Nanotechnology on the College of Auckland in New Zealand.
"Self-assembly is the way in which nature makes nanostructures," she says. "We're attempting to study to do the identical issues." Determining methods to craft tiny, advanced steel shapes in fewer steps and with much less power might be a boon for producers.
The researchers selected gallium as a progress medium, on account of its comparatively low melting level, capacity to dissolve many different metals and the tendency for its atoms to loosely manage whereas in a liquid state.
After mixing zinc into the gallium, the group subjected the alloy to elevated temperatures and completely different pressures, after which let the combination cool to room temperature. The free ordering of gallium atoms appeared to coax the crystallizing zinc to bloom into symmetrical, hexagonal constructions resembling pure snowflakes and different shapes, the group discovered. It's considerably like how a fruit tray imparts order on the fruits stacked inside, Gaston says.
The long run could also be vibrant for analysis into purposes of gallium and different low-temperature liquid metals. "To not take that snowflake metaphor too far, however [this work] actually hints at new branches for scientific discovery," Gaston says.