First, we analyzed neutralizing antibody profiles in beforehand naïve people after an infection with the BA.2 omicron variant. All of those people had detectable neutralizing antibodies in opposition to the BA.2 omicron variant itself and in addition BA.5 omicron, though with decrease titers, nonetheless neutralizing antibodies in opposition to pre-omicron and BA.1 omicron have been solely sometimes above the restrict of detection (IC50 > 1:16) and within the few constructive samples typically low (Fig. 1a). This was in concordance with our earlier knowledge the place unvaccinated people after a pre-omicron VoC an infection induced primarily neutralizing antibodies in opposition to pre-omicron variants however not BA.1 omicron and vice versa, sera from unvaccinated people recovered from BA.1 omicron variant an infection primarily neutralized BA.1 omicron however not pre-omicron variants1,2.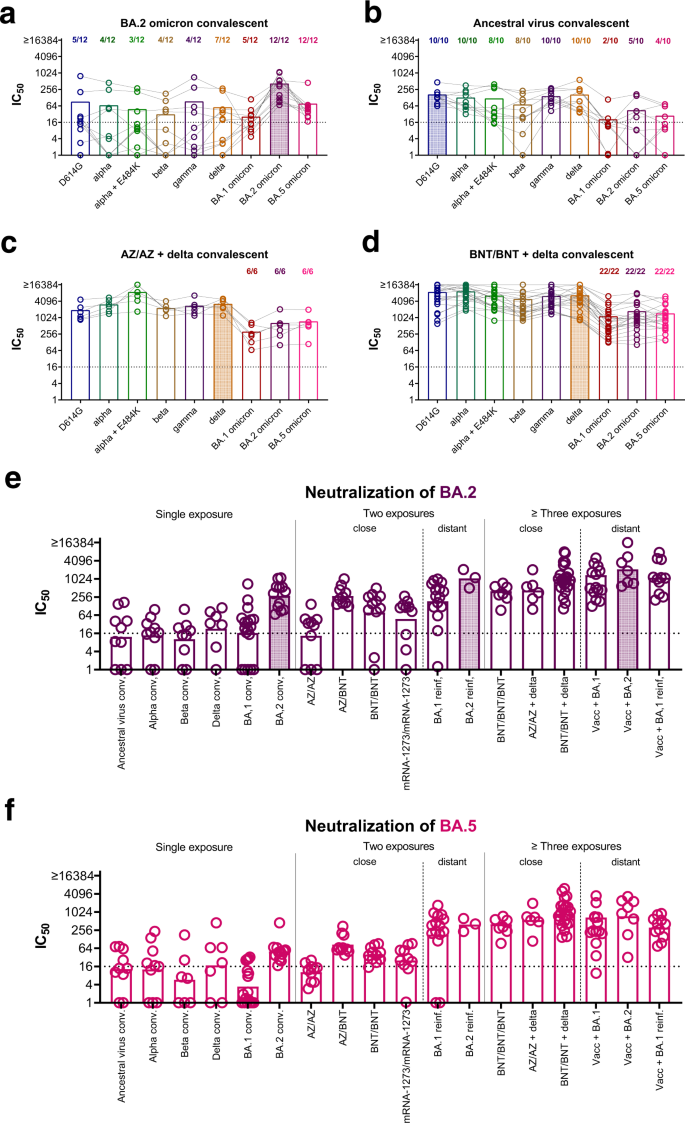 To finish the dataset, we now additionally analyzed neutralizing antibody titers in opposition to our panel of variants for plasma samples from people who had been contaminated through the first wave in Austria (March/April 2020) with an ancestral virus variant19. As anticipated, these people had excessive neutralizing antibody titers in opposition to pre-omicron variants with barely lowered titers in opposition to the immune escape variants beta and alpha with E484K mutation (for each variants 8 out of 10 people above cut-off). Nevertheless, neutralizing antibodies in opposition to all three omicron sub-variants have been solely induced in a part of the people (2 out of 10 for BA.1, 5 out of 10 for BA.2, and 4 out of 10 for BA.5, Fig. 1b). In distinction, people with hybrid immunity confirmed a broad neutralizing antibody response in opposition to all variants analyzed (Fig. 1c, d). This was true for breakthrough infections after two doses of an mRNA vaccination (BNT162b2, BNT) in addition to after two doses with a vector vaccine (ChAxOx-1-S, AZ). These breakthrough infections have been presumably all attributable to the delta variant.
We subsequent analyzed neutralizing antibody titers in opposition to the BA.2 and BA.5 omicron variants for a broader choice of samples. We included people with single publicity (unvaccinated convalescent from ancestral virus, alpha, beta, delta, BA.1 omicron, or BA.2 omicron variant), with two shut exposures (vaccinated with two doses), two distant exposures (unvaccinated after pre-omicron variant and BA.1 or BA.2 omicron re-infection), three and extra shut exposures (vaccinated with three doses or vaccinated with two/three doses and pre-omicron breakthrough an infection) or three and extra distant exposures (vaccinated with two or three doses and breakthrough an infection with an omicron variant). Generally, a number of exposures improved neutralizing antibody titers in opposition to the BA.2 and BA.5 omicron variants even for people that had had no contact with the BA.2 or BA.5 omicron variant itself (Fig. 1e+f, Tables S2+S3).
We subsequent calculated relative modifications in neutralizing antibody titers between totally different pre-omicron (D614G, alpha, beta delta) and omicron (BA.1, BA.2, BA.5) variants in our single publicity and two-dose vaccinated cohorts primarily based on beforehand printed knowledge1,2 and the info introduced in Fig. 1. Single publicity convalescent sera have been finest neutralized by the uncovered variant or comparable variants (Fig. 2). Sera from two doses vaccinated people behaved comparable as single publicity sera from pre-omicron variant convalescents. Titers to extra numerous variants dropped in some circumstances greater than 10-fold, indicating totally different serotypes. Relative to pre-omicron variants the three omicron variants confirmed rising immune escape within the order BA.2<BA.5<BA.1.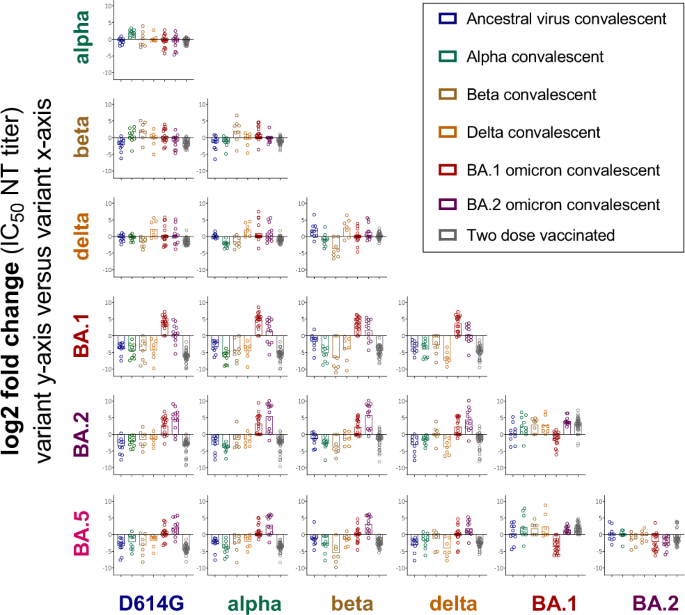 These knowledge point out that BA.2 and BA.5 omicron variants are positioned antigenically between pre-omicron variants and the BA.1 omicron variant however distinct to each and distinct to one another. To investigate these variations in additional element, we subsequent did antigenic cartography, for which a matrix of neutralizing antibody titers in opposition to totally different virus variants for a panel of single variant publicity sera is used to acquire map distances20. Antigen variants and sera are positioned relative to one another in a lower-dimensional house primarily based on fold modifications of serum antibody titers from uncovered variant to different variants, the place the serum-antigen distance within the map displays the dilution steps within the neutralization assay (Supplementary Strategies Map building). Making use of this strategy to single an infection or two dose vaccinated sera, as we did right here, permits to estimate antigenic relationships of SARS-CoV-2 variants, whereas multi-exposure sera would underestimate the underlying variations between variants resulting from elevated cross-reactivity and lead to smaller map distances between variants. The variation we noticed within the titer knowledge was largely resulting from variation in titer level estimates that we extrapolated under the restrict of detection. These level estimates weren't used within the cartography, however handled as lower than the restrict of detection as described within the strategies part. The map represents the titer knowledge from convalescent and double vaccinated serum teams nicely in 2D and was strong to assay noise and pattern dimension (Fig. 3, Figs. S2–S10, S14–18 and Supplementary Strategies). Determine 3 exhibits the central a part of the map solely with the variety of sera from every group used for the development of the map indicated in the fitting half, whereas Fig. S2 represents a non-zoomed model. There's a good correspondence of sera and antigen map place.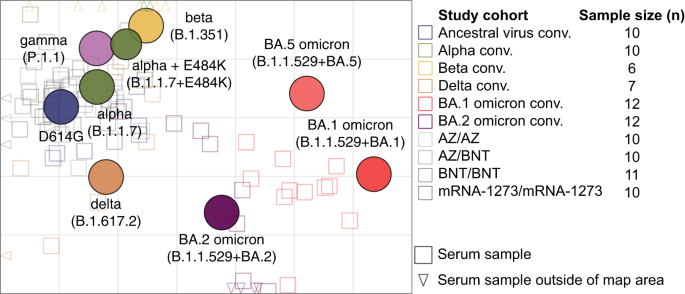 The antigenic map visualizes the substantial distinction of the three omicron sub-lineages BA.1, BA.2 and BA.5 in comparison with the beforehand circulating variants (Fig. 3) and corresponds nicely with earlier maps14,15,18,21. Wu-1 like variants (D614G, alpha, alpha+E484K), beta and gamma occupy a small house within the map and the delta variant is in roughly the identical space. Barely detectable neutralization titers in opposition to BA.1 omicron in all however the BA.1 omicron convalescent serum group resulted in its positioning far-off from the opposite variants. Because the titer knowledge indicated, BA.2 and BA.5 omicron have been situated between the pre-omicron variants and BA.1 omicron, with BA.2 roughly equidistant to delta and BA.1 omicron. Apparently, the space of BA.2 to delta is smaller than the delta-beta distance. This may be defined by comparable titer drops to delta and BA.2 within the beta convalescents, solely marginally greater drops to BA.2 than to beta within the delta convalescents, and better delta than beta titers within the BA.2 convalescents (Fig. 2).
Regardless of greater BA.5 titers within the BA.2 convalescent samples, its map place is nearer to BA.1 than BA.2. We clarify this by the pronounced drop of titers from BA.2 to BA.5 within the BA.2 omicron convalescent group and the decrease BA.5 than BA.2 titers within the BA.1 omicron convalescents, pushing BA.5 away from BA.2 (Determine S7). We discovered two totally different patterns within the BA.2 convalescent sera, one with excessive cross-reactivity and the opposite with little. This resulted in two serum clusters within the map, a central one for the cross-reactive and far-off positions for BA.2 particular sera (Fig. 1a, Determine S2, Determine S11). The excessive cross-reactivity could possibly be resulting from undetected prior an infection. Significantly two of the 12 BA.2 omicron convalescent sera had a broadly cross-reactive sample, which could possibly be defined by a earlier undetected an infection (Fig. 1a). A possible challenge with figuring out single-infection sera from people and consequently a weak spot of our research is that these individuals may need had a earlier asymptomatic an infection which have altered their reactivity profile and would possibly thus not precisely symbolize the essential antigenic relationships amongst variants. To manage for that, we created a map excluding the 2 BA.2 convalescent sera with excessive cross-reactivity and a possible earlier publicity. Nevertheless, this didn't influence map conformation (Determine S12).
To visualise the antibody reactivity profile of people with distinct an infection historical past, we subsequent constructed antibody landscapes14,22 for every serum group (see Fig. 4 for GMT landscapes and Determine S11 for particular person landscapes). Utilizing an antigenic map from first an infection and two dose vaccinated sera as the premise for the variants' antigenic relationships, antigenic landscapes present quantitatively how titer magnitude and breadth distribute over the mapped strains. The bottom map units the variants' x- and y- coordinates in antigenic house, and the measured neutralization titer in opposition to a variant offers the peak of the panorama within the z-direction. This system permits analyzing complicated serological knowledge past major exposures, as extra cross-reactive sera may have flatter landscapes than strain-specific first-exposure sera. Whereas this variation in cross-neutralization could possibly be visualized in an antigenic map with variants occupying a smaller house23, antibody landscapes are obligatory to look at titer magnitude and distribution over mapped house. Grouping by publicity historical past, we discovered that at the very least two distant variant encounters elevated cross-reactivity of neutralizing antibodies to different variants. Single-variant publicity landscapes had highest reactivity in opposition to the contaminated variant with little cross-reactivity to antigenically distant variants. Ancestral virus, delta convalescents and two dose vaccinated people or alpha and beta convalescents shared comparable reactivity profiles (Fig. 4a–b, Determine S11A–J). BA.1 and BA.2 omicron convalescent landscapes exhibited each distinctive antibody profiles centered on the world of their root variant, reflecting the observations within the neutralizing antibody titer knowledge.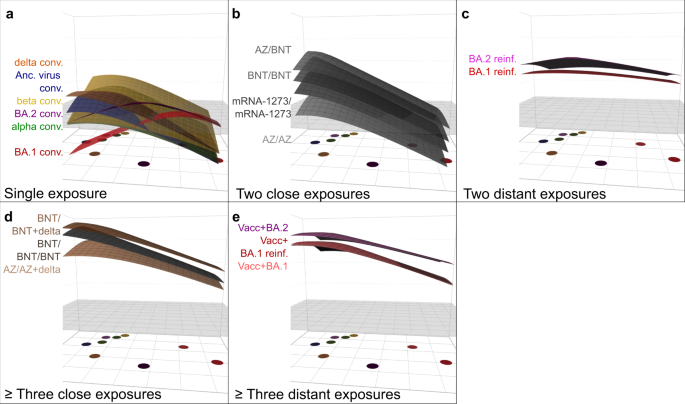 In distinction, non-omicron an infection adopted by omicron an infection resulted in broad antibody reactivity profiles of comparable form, differing solely in magnitude by omicron sub-lineage (Fig. 4c). Equally, triple vaccination and breakthrough infections resulted in broad GMT antibody landscapes of comparable form (Fig. 4d, e). particular person landscapes, we discovered that delta breakthrough infections elicited barely greater titers in opposition to BA.2 and BA.5 omicron than triple vaccination (Fig. S11M–O). BA.1 omicron breakthrough and BA.1 omicron breakthrough with earlier non-omicron an infection landscapes have been nearly similar (Fig. 4e, S11P, R). This implies that, whereas the rise in cross-reactivity from one to 2 SARS-CoV-2 variant exposures is substantial, a 3rd variant publicity modifications the reactivity profile to not the identical extent. Analyzing this in additional element, we discovered that the variety of exposures elevated antibody ranges, however the kind of publicity and variant impacted the panorama's form (Fig. S13). On common, antibody reactivity within the multi-exposure cohorts was greater in opposition to pre-omicron variants than in opposition to the omicron sub-lineages aside from omicron re-infected people.